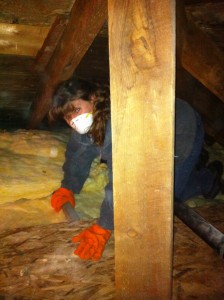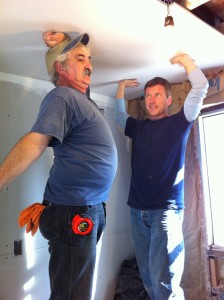 On December 4, 2012, several of us from Smith Village  teamed up with Habitat for Humanity to help remodel a duplex at 1212 – 1214 W. Poplar St. in York. None of us had much experience with remodeling, but we were willing to learn, and learn we did. The Habitat supervisor taught us on the fly, and by the end of the day we were putting in insulation, hanging drywall and painting like (semi) professionals. When we left, one family was a little closer to having a place they could call home.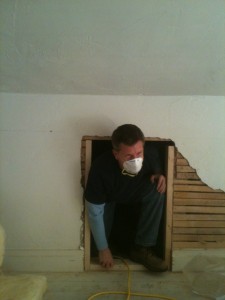 Bill and Maryellen pulled the short straw, and ended up crawling on their hands and knees in the hot and cramped eave space of the attic, putting in insulation…  As we've learned to expect from these two, they didn't complain at all, just climbed right in and got to work. Later that day we found out why they were wearing masks… as  Maryellen walked across the back yard, the sun lit up a shower of insulation particles flying from her hair. It was dirty work, and not for the flexibility challenged, which left most of the rest of us out. (sorry guys!)
Colleen and I got the cushy job of painting. We took down both front doors and sanded them, then put two coats of primer on each, front and back. While they were drying we painted other odds and ends outside. Kent helped put a roof on the garage that was out back. He spent a good part of the day doing that, so I'm sure they won't need to worry about leaks.  But there was no rest for the weary… when he finished up there, he started hanging drywall. One thing is for sure: there was no idle standing around. Brian seemed to be everywhere at once, cutting lumber, hanging drywall, making a nuisance of himself…  Steve and Mary worked on insulating the kitchen walls… better than the attic, but lots of measuring, cutting and going up and down the ladder.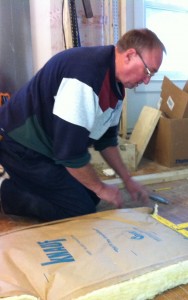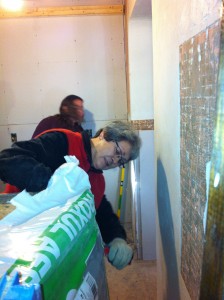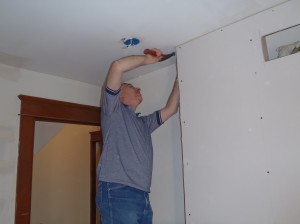 Our fearless leader, Dallas, kept us all well supervised, and rumor is he was helping somewhere, though we have no eyewitnesses to back this up. (just kidding, Dallas!) In reality, we all worked hard, and what a fabulous feeling it was when we dusted off to go home. We could see what a difference just 8 people and one day had done. Although the house won't be done for the family to move in by Christmas as planned, hopefully mid January will see them warm and cozy in a place they can call home. I don't think any of us are going to quit our day jobs just yet and go into construction, but we're all a little handier than we were a week ago, and pretty darn proud of what we accomplished.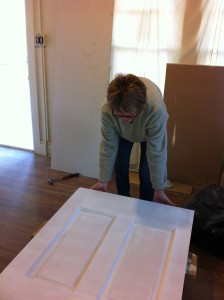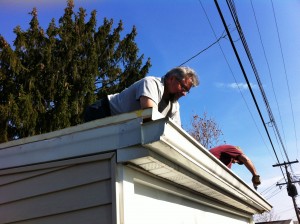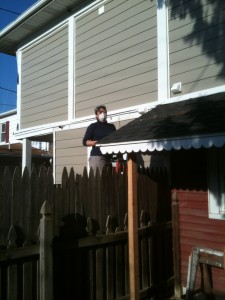 Habitat For Humanity helps provide simple, decent, affordable homes to families in need of shelter. They are a non profit group that relies on volunteers and donations to fund their building projects around the world. To volunteer or make a donation, contact them at http://www.habitat.org/
by Ellen Dougherty-Saylor