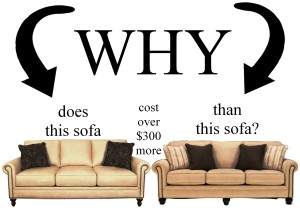 If you've ever gone sofa shopping, you've probably seen what appear to be two nearly identical sofas, but one costs hundreds of dollars more than the other.  Is the less expensive sofa just a much better deal?  The answer is inside.  Because the majority of a sofa's construction is hidden, it can be tough to make a call on quality just by appearances.  Here are some things to look for, and questions to ask your salesperson: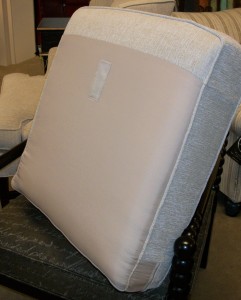 Check the underside of the seat cushions.  One trick manufacturers use to keep the price down is to use a less expensive fabric on one side.  A cushion like this cannot be flipped over to decrease wear on the fabric.  If your sofa will be used heavily, this can make a big difference in the life of the upholstery.
The frame inside the sofa is what provides most of the support.  Frames can be made of many materials… make sure you ask your salesperson how the frame is constructed on any upholstered piece you are considering.  The best frames are made of hardwood, and joints are both glued and screwed together for durability.  Plywood also makes a sturdy frame, because the different layers of wood are bonded together with the grain running in opposite directions which reduces warping and cracking.  Particleboard, chipboard or composite wood products are not nearly as strong, as they are made of small pieces of wood pressed together. They break down much more quickly because of this.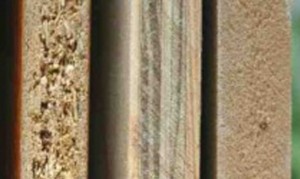 In the base of the sofa frame is the decking.  This is what the seat cushions rest on.  The gold standard is 8 way, hand tied coil springs.  These make the seat more resilient.  This kind of spring is very labor intensive to make, and many are now machined "tied" with metal.  In a mid price point sofa, sinuous springs are often used.  These are "S" shaped.  A better sofa will have these more closely spaced to provide more support, and the edges will be "double-sprung," meaning two sinuous springs are placed close together where the decking meets the arm of the sofa. This prevents the cushion from collapsing in towards the arm.  A less expensive sofa may only have webbing to support the seat.  This is not as strong, durable, or resilient as the other 2 methods.

Cushion material is the next thing to consider, and a lot depends on the firmness you prefer when sitting.  Those who like to lounge with their feet up often prefer a softer seat, while those who sit upright are more comfortable with a firmer cushion.  Because of this, make sure  that when you are shopping, you sit on the pieces the way you sit at home.  A good cushion starts with a good quality piece of foam.  Foam comes in different densities.  A high density foam will hold up longer, but will make a firmer seat.  Most manufacturers will add a wrap of fiberfill or down on the outside of the foam to provide more cushioning.  Down makes for a cushy seat, but can cause a rumpled appearance in the upholstery fabric.   Some cushions will have springs inside the foam, and this will increase the longevity of the cushion.

The inside back of the sofa supports the back cushions. Springs here are a better choice than webbing for the same reason as in the decking.

Back cushions may be either a piece of batting wrapped foam, like the seat cushions, or loose fill. A foam based back cushion will be firm, and is often used in a tight-back sofa, where the fabric on the inside  back is upholstered directly to the sofa frame.  A loose cushion back (where the cushions are completely removable) or a semi-attached back (where they appear to be removable but are still attached to the frame in some way) can have either a foam cushion, be made completely of loose fiberfill, or a combination of both. These types of back cushion will have much more give than a tight back.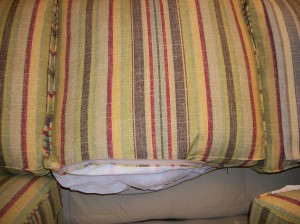 None of the 3 types is better as far as quality, it depends on your preference. A tight back has a neater appearance, loose and semi-attached backs have a more casual,  rumpled appearance. Fiberfill backs do occasionally need to be fluffed… look for zippers on the the cushion so you can redistribute the fill, or add more.
The fabric is the most visible part of the construction.  Upholstery fabric is one area where price does not necessarily indicate quality.  Some designs are very expensive to weave, but may not be very durable.  Others, such as microfibers, are cheap to produce but are very strong and stain resistant.  Upholstery fabric is graded by the manufacturers to indicate durability.  Your salesperson should be able to give you this information.
Now that you know what to look for in a good quality piece of upholstered furniture, here is something else to consider.  Some people think they should spend less on their family room furniture than they do for the less busy areas of their home, since it's just going to get abused.  In reality, you should spend more for your family room furniture… so it will hold up better to the tough conditions there.  In less heavily used rooms, such as living rooms, you can get away with less expensive furniture, since it won't be used as hard, and attractive upholstered  furniture is just as likely to be inexpensive as it is expensive, because, as you now know, all the value is on the inside.