Leg Up Farm is a non-profit therapy center in York County, Pennsylvania, for children with disabilities and developmental delays.  They offer many services to their clients, including physical therapy, occupational therapy, animal assisted programs and much more.  This year, Leg Up began construction of a new Wellness and Education Center addition to their current facility, which will allow them to expand their services to include aquatic therapy, art therapy, and dance/music therapy.  When we were contacted to see if we were interested  in furnishing their new Daily Living Skills Area, where clients would learn how to care for themselves in a home environment, we jumped at the chance.  We met with Melissa Maley and Tom O'Connor from Leg Up in June to learn what they were looking for and what sort of space we had to work with.
As with most design projects, your plans are usually much grander then the size of the space in which you have to fit them, and this was no exception.  They were hoping to fit a single bed and dresser, love seat, end tables and a dinette in the 16′ x 20′ space… and a third of the area was already designated for a kitchen.  No problem!  We had the rest of the summer to work on the project; completion of the wing wasn't scheduled until the end of September, at the earliest.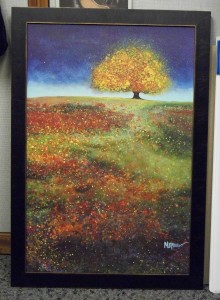 We needed a jumping off place for the design, and found it in a colorful picture of a tree in a field, with blues and oranges.  With lots of emails back and forth from Melissa and Tom, we gradually came up with a design that would be accessible, easy to clean,  sturdy, and- oh yeah!- attractive! We chose a recycled leather sofa in a cool gray, dark toned wood pieces, and accented it all with blues and bright greens.
In September we got the word that the room was finished enough for us to go and have a first hand look, and off we went to see what we were getting into.  Melissa and Tom gave us a tour of the entire facility and WOW! It's amazing.
Leg Up Farm is the brainchild of Louie Castriota Jr.  When his young daughter was diagnosed with a disease causing cognitive and motor function delays, he came to realize that there was no one place dedicated to address the multiple issues of children with special needs.  Leg Up offers physical, cognitive, emotional and social support all in one location to help children become better able to function in the community.  A look around the facility quickly makes it clear that Louie takes this mission very seriously… virtually everything is interactive and accessible to children with various disabilities.  Take a look: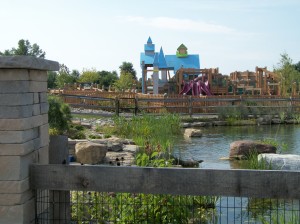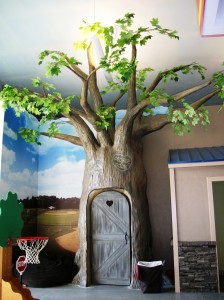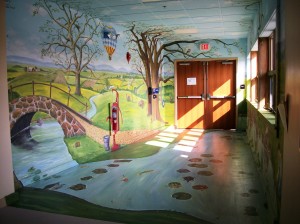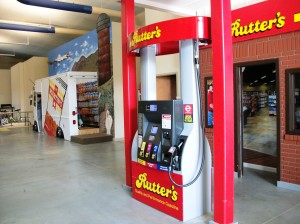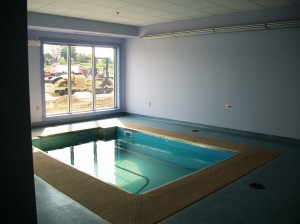 Aquatic therapy pool.
These few photos are, quite simply, not enough to give an adequate idea of what they have to offer here… I didn't even take a picture of the stable and indoor riding ring!  This is a state of the art facility, and operates strictly as a non-profit organization.
Their mission statement:
…to enrich the lives of families with special needs children 
through an effective combination of therapeutic programs and services, education, and advocacy.
In addition:
"We believe every child is special and deserves the opportunity to reach their full potential."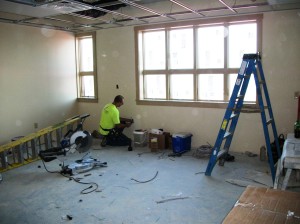 Getting back to our room…  it was, well, small.  But the windows had a beautiful view of the fields and woods behind the farm.  We went back to work energized and awed at the scope of the facility, and our small part in this remarkable place.  Everything fell into line, and by the end of September the room was ready, and so were we.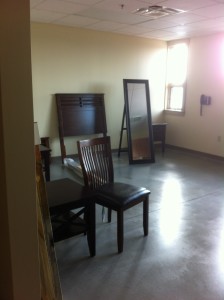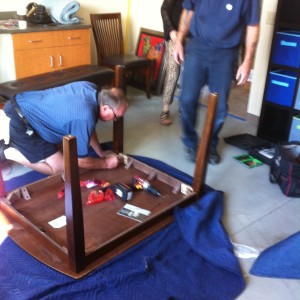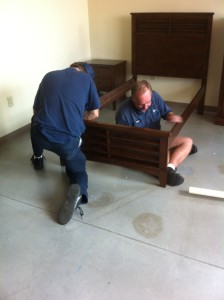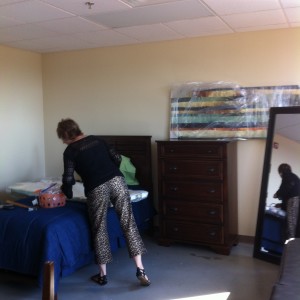 September 26, 2013: one day, 4 people, some nuts and bolts, and voila!  We had a newly furnished Daily Living Skills Area for some very deserving young people.  We were thrilled at how it all came together, and the Leg Up staff seemed to be pleased as well; which, of course, was the more important part.  By the time I write this, children will be getting a chance to use the room, learning all those things they will need to know in order to take care of some of their own needs: cooking, cleaning up, making a bed, doing laundry… those things most of us don't need to think twice about.
The project was an eye opening one for us.  We were filled with admiration for this organization's effort to provide these kids with the skills and therapy they need to have the best possible chance of living life to the fullest.  We're glad we got to play a part.
Leg Up Farm will be holding an Open House on Saturday, October 19th, 11 am – 2 pm.
 For more information go to www.LegUpFarm.org, or call 717-266-9264.