Many people put off buying a new mattress because they know it can be an exhausting shopping experience, and they realize they will have to live with their decision for a while. With so many mattress brands, models, sizes, prices and features available, how are you supposed to know exactly what you want or need? The truth is that what works for one person may not be the best option for someone else. Read on for some helpful hints.
An important feature of a mattress, and one many people do not understand, is support. Proper support will keep your body aligned during sleep to prevent strain on your musculoskeletal system. Without this support, you may wake up with cramps and stiffness, or the feeling that your arms or legs are "asleep." Support is not the same as firmness, or how the mattress feels when you lie down. A very plush feeling mattress can still provide proper support. A firm feeling surface on a mattress is a personal choice, it is not a necessity for good sleep.
Smith Village carries three primary mattress types: memory foam, innerspring, and memory foam hybrid. Many of our mattresses also offer a variety of comfort choices that allow you to choose your ideal sleeping surface.
The base of your mattress set is known as the foundation or box spring. The foundation is designed to complement the performance of the mattress and works in unison with it to provide proper support and durability. Purchasing just the mattress or foundation alone can reduce the overall durability and longevity of your mattress set.
The way you sleep will affect which type of mattress is best for you.
Side sleepers need pressure relief, or a mattress with the ability to support and disperse your body weight and conform to your shape. Memory foam or innerspring mattresses are a good place to start.
Stomach sleepers don't need an enveloping memory foam, but an innerspring or hybrid with a firmer top surface is definitely something you will want to test rest.
Back sleepers will want something in between that offers support but has some give to it to keep your spine in healthy alignment. Any mattress type can work, your personal comfort is key.
As you try different mattresses, make sure to lie down to get a real feel. Pushing on the top, or sitting on the edge are not enough to decide what is best for you. You wouldn't choose a new car just by kicking the tires, you would take it for a spin. Shouldn't you spend as much time "test-driving" your next mattress? After all, most of us will spend more time sleeping than driving, so take your time.
You can also enhance the comfort and convenience of your life with an adjustable foundation. Adjustable foundations allow you to elevate your head and feet as needed. This can help alleviate pressure points, improve blood circulation, and reduce acid reflux and snoring. They can also help ease the discomfort of arthritis, and neck and back issues. It's also a great option for people who love to lounge in bed, be it while reading a book, using your computer or eating breakfast in bed.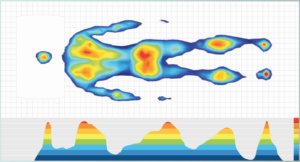 Here at the Village, we make finding the best mattress for your sleep style easy, with The Support Report mattress recommendation system by Furniture First. The Support Report uses pressure imaging technology to create a dynamic hi-res image of your body pressure as measured on a mattress. This helps guide your sales associate to the style of mattress best for your individual body type.
To prepare yourself for your mattress shopping trip, try Serta's online Mattress Selector or visit our mattress page.